Online live coloring demonstrations
live art broadcasts with replay archives
Midnight Dahlia - Overpainting with colored pencils
Become a supporter of Vanilla Arts Company at Patreon.com to access livestream sessions.
Friday, July 13th at 11am EDT
Use this converter to find a match to your local time.
Replay archives available for patrons who miss the live session or who want to rewatch an episode.
July Lesson: Overpaint with colored pencil for clean depth
Project shown in final stages with pencil details over Copic Marker.
Digital stamp is a separate purchase from PowerPoppy.com (log in at Patreon to receive your 20% off discount code).
Artists like to break the rules.
Students already know about my underpainting technique, we've used it in class after class. This month, we're looking at the exception to the underpainting rule: sunshiny florals.
We'll discuss why the underpainting method doesn't always work the way you want it to and how to decide when and when not to underpaint.
And for those times when we do not underpaint? Learn Amy's colored pencil overpainting technique which provides an amazing amount of depth without muddying your beautiful Copic work.
Stamp: "Dahlia" by Power Poppy* (students receive 20% off the digital version in July)
* "Dahlia XL" is the name of this stamp set in clear and for the die set.
Medium: Copic Marker & Prismacolor Premier Pencils
Level: Intermediate to Advanced (blending technique not covered)
Live Broadcast: Friday, July 13, 2018 at 11 am EDT (Eastern Daylight Time)
Recording Available: Replay available immediately after the broadcast ends. Watch as many times as you want until January 1st, 2019.
Class Printable Pack Includes:
Class syllabus with detailed recipe guide
Full color project sample, guide to shading
Guide to Copic base
Detailed color map
Project inspiration references
Broadcast times vary each month to accommodate a wide variety of schedules and student time zones. Check the calendar here for a look at upcoming broadcast times (look for the Patreon logo).
Remember: replay is available to all students. Watch as many times as you wish, at your convenience.
Previous Livestreams-
Lessons are available NOW to members via the recorded archives! Get instant access today at Patreon.
January 2018: Get ready for the year ahead with "Party Time" by Power Poppy. You'll want to color this stamp over and over for birthdays, showers, and miscellaneous holiday cards all year long!
February 2018: Copic blending combinations do not work for pink objects because they force you into using red markers to shade. Learn how to create true pinks without adding unrealistic red markers.
May 2018: Flowers shouldn't weigh a ton! Learn to color lightweight and delicate clusters of flowers.
March 2018: Taming wild gemstone colors. We love brilliant colors but they can easily overpower your project. Learn to keep Ultramarine Blue sophisticated, not loud!
June 2018: Learn to create professional looking color palettes using and easy tool and kindergarten math!
April 2018: Neutrals do not have to be boring! Learn to spice up your neutral color palettes without overpowering their quiet & gentle nature.
Vanilla Livestream is perfect for:
Intermediate colorers who already have basic Copic blending skills
Intermediate colorers who are tired of "monkey see, monkey do" demonstrations
Experienced colorers looking to challenge their current skills
Shy artists who want more than craft-level classes based on trendy techniques
I recommend that if you're a beginner, start with Marker Painting Foundations to develop your basic marker technique BEFORE joining Vanilla Livestream classes. These are definitely intermediate level challenges!
Supplies used in "Created to Create":
Partial list, not all supplies shown below. Contains affiliate links for Amazon and/or Dick Blick.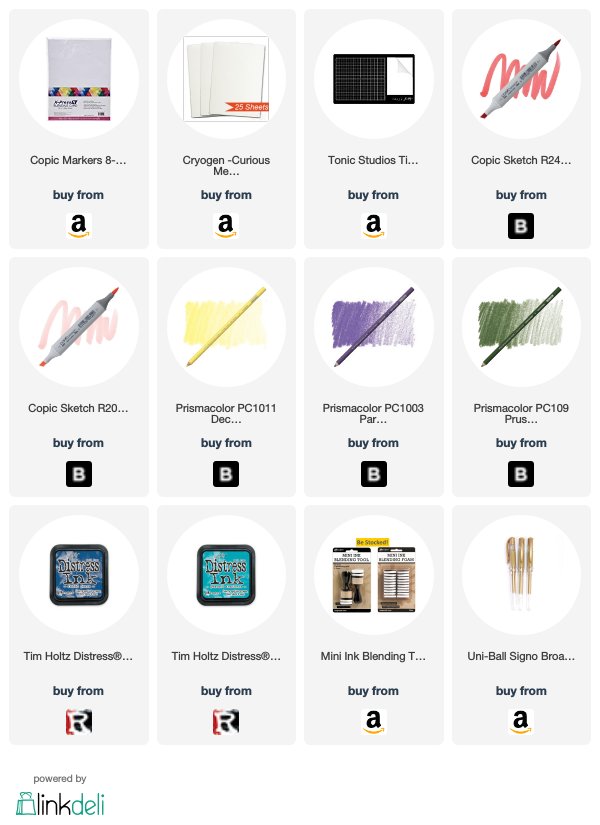 Previous Livestream Lessons: